This week, the youth of CVA & CVC are leading the church service! The overall theme is "Look, See What God Has Done." The students will share what God has done in their lives over the last year, decade, and more whether at school or on missions. Most important is what He's done in their hearts. We look forward to seeing you on Sabbath!
Prayer Focus: Church family, "Our prayers must be to the glory of God, in full surrender to His will, in full assurance of faith, in the name of Jesus, and with a perseverance that, if need be, refuses to be denied. All this must be learned. It can only be learned in the school of much prayer. Amid the painful consciousness of ignorance and doubting, the heavenly art of effectual prayer is learned. And none can teach like Jesus. (Andrew Murray) Please send your prayer requests and praises to Dina Horst at 402.420.5970. Thank you!
IMPORTANT DATES
A Memorial Service for Margaret Ogden will be held here at the College View Church tomorrow, May 12, at 11 am, followed by a luncheon with the family provided by the church. Flowers may be sent directly to the church for the service and condolences to: The Ogden Family at 6920 S. 34th St., Lincoln, NE, 68516. Memorials may also be sent directly to the College View Church and The Cat House here in Lincoln.
Our next Fellowship Potluck will take place this Sabbath, May 13, in the Heartland Hall! Bring a friend, bring two or three dishes, and let's get to know our church family!
Young Adults (18-29ish yrs old), do you like Mexican food? Join us for potluck on Sabbath, May 20 at 1 pm down in the Youth room and bring a dish to share. Contact Pastor Guadalupe Montour at 978.333.1209 with questions or financial sponsorship. See our other events below!

Mom's Cafe: Our last meeting for this school year will be on Thursday, May 25. Meet at the Lincoln Children's zoo entrance at 10:20 am for 10:30 am entry. Cost will be $5 per adult and children's entry (12 and under) is covered. Contact Belinda Fernandez for more details at 503.927.0620.
CVC's Vacation Bible School will be here before you know it! Our Family Ministries pastors, Cecilia and Adella, are hard at work getting ready for your little ones to join us from Monday, June 5, through Friday, June 9 from 6-8:30 pm. Have your kids bring friends, classmates, and neighbor's kids too! We look forward to learning about God together. Sign up here.
GENERAL
Worship Choir! PLEASE be sure to check your CVC app inbox for the latest communications from Pastor Sullivan. This is located by tapping the small profile icon in the upper right corner and selecting "Inbox."
New in the library! Check out our book, Hearts of Faith. Expectation, exultation, bewilderment, and despair—these were the emotions amid which the Seventh-day Adventist Church was conceived. Hearts of Faith recounts the story of the transition from the weeping that followed the Great Disappointment of October 22, 1844, to the hopeful emergence of the infant Seventh-day Adventist Church 19 years later. We also have a new DVD set, The Days of Noah, providing over 6.5 hours of amazing content in four parts, including The Flood, Judgement Hour, The Valley of Decision, and the Ark of Fire.
Consider being part of a close community of employees whose mission is to mentor every student to become a highly sought graduate who serves joyfully in God's calling. Union College is seeking applicants for several opportunities, including both faculty and staff positions. Detailed job descriptions with application instructions can be found at uncollege.edu/employment. Contact Lisa R. Forbes at

This email address is being protected from spambots. You need JavaScript enabled to view it.

for information.
ALL SMALL GROUPS ARE LISTED HERE. Join one today!

LOCAL COMMUNITY
The next LAMM (Lincoln Adventist Medical Missionary) meeting will be on Sabbath, May 13 at 4 pm at 13433 S 150th Ct in Bennet. We are currently studying Chapter 11 of Ministry of Healing. Evening meal/potluck will be Enchiladas. Bring items to go along with this such as salad, etc. At 5 we usually have social time to visit, and plan to eat around 5:30 PM. Contact Kristy Hardy at 402.890.7488 for further details.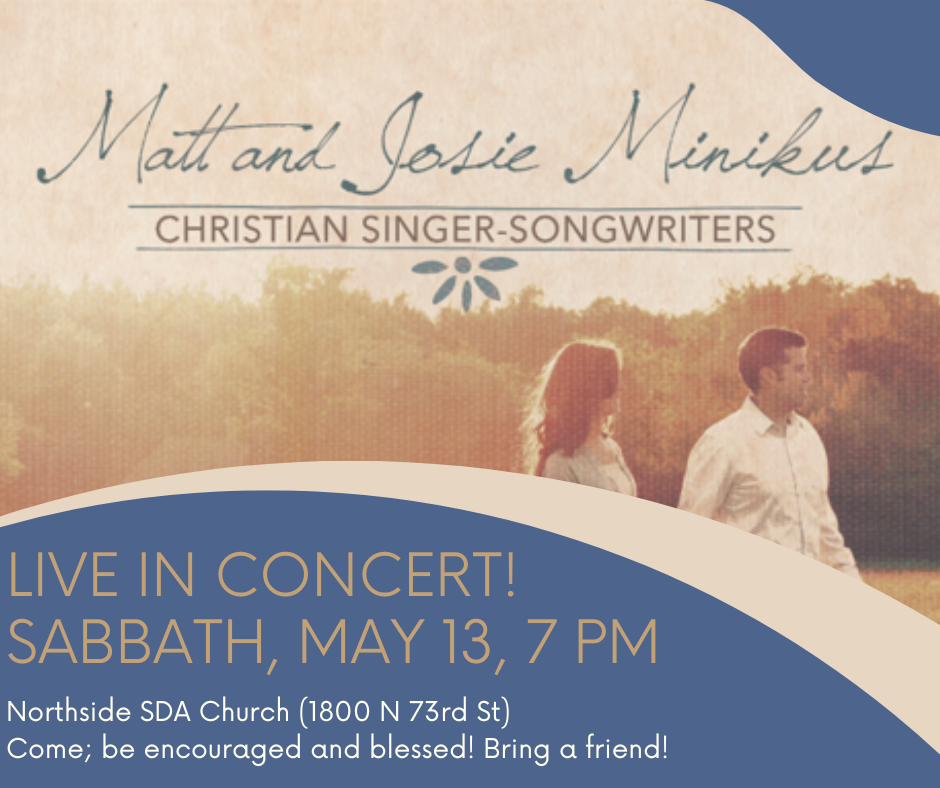 The Lincoln SDA Credit Union has an immediate opening for an experienced branch manager. The manager is responsible for member relations, expanding membership, managing a small team, accounting, asset liability management, compliance and risk management among other responsibilities. Interested parties please send an email to

This email address is being protected from spambots. You need JavaScript enabled to view it.

.
Bulletin Announcements: Please send all bulletin announcements to This email address is being protected from spambots. You need JavaScript enabled to view it. by Tuesday of each week.